This is part of a writing I did some time ago about a solo trip I took to Arizona in 2018. Read part 4 here.
Departure
My phone alarm wakes me around 3 in the morning, and I wake up and stretch in the dark shipping container. Most of my bags and stuff are all packed up already, since I got in late and did basically nothing but just crash for the night. I check my phone and breathe a sigh of relief when I see that a man named Georgi has taken my scheduled Lyft ride sometime while I was asleep. He'll be here at about 4 AM.
I have some time to kill, but it passes quickly as I check and recheck my baggage to make sure I haven't forgotten anything. I ensure that all of my items are in the proper places for TSA, and that I've done all of the steps in Scot's checkout procedure. I pile my things outside the container on the gravel and squint as the security yard light blinds me as punishment for my movement in the dark.
I go inside to sit the last few minutes until my phone tells me Georgi is here. I close up the container for the last time, grab my things and head out the welded steel gate to meet my ride. About 45 minutes later, I'm standing once again on the curb at the Phoenix Mesa airport with my things. I initially go in the wrong door and get in line for security with my checked bag still with me. When I reach the gate I realize my mistake and prepare for the TSA agent to scold me, but he's very friendly and tells me where to go to drop it off. I backtrack through the ratmaze which is mostly empty at this time of the morning.
With my checked bag where it belongs, I return and pass through security again without a hitch. My new magnetic implant must be too small for the security scanner to pick up because the screen flashes green and I'm on my way. I settle into the waiting area with my backpack again, and wait for our plane to arrive.
After a fairly short wait, I'm once again filing up the zigzagging covered stairway on the tarmac in the dark up to the plane. I find my seat without trouble this time, and so far there's no one else in my row at all. I settle in and wait, but no one else shows and I end up with three seats to myself for the whole flight, and I shift over to the middle seat to afford myself some more space. Once we are in the air, I order another ginger ale and snack pack like I did on the flight in.  I crack open my snacks, sit back with my audiobook, and look out the window, reflect on the last few days.
Arrival
We land without a hitch back at CNRA more or less on time a few hours later.  My friend, Jonathan, is supposed to be picking me up here at the airport. While standing around with my fellow passengers waiting for the baggage claim to start up, I notice the young couple I saw on my way out have come back with me and I ask them briefly how their trip was.
I find my huge duffel bag and call Jonathan to find out where he is. He says he'll bring the car around to the door to pick me up and I agree. A few minutes later however, Jonathan calls back and says his car won't start. I walk on out to where he's parked and load my bags in. We pop the hood and I notice that the battery terminals seem awfully corroded but for some reason it doesn't strike me as worth mentioning.
Eventually he calls a friend from work who comes to help us out. After a bit of waiting, he arrives and ultimately it turns out to be the battery terminals after all. After cleaning them the best we can with a napkin from Jonathan's car, we get it started and he makes a note to get the battery checked later. I chat with Jonathan on the drive back to Aurora about my trip but it's not a long drive and soon I'm back at home. My journey is over.
Reflection
Once I'm back at my own house and my luggage has been hauled in, I'm alone once again. I should unpack but I just don't feel like it. I don't have to go back to work for two more days, I can unpack later. Instead, I lay on the couch and reflect on the last four days, and spend some time with my very lonely cat.
I find a paperclip and idly play with my magnetic implant, dangling the paperclip from it while my cat bats at it. I try to select some photos from the trip for an Instagram post, but most of them didn't even turn out. I find myself glad that I didn't bring anything more than my phone camera. I'm no photographer, and I would have just wasted precious time looking through a viewfinder instead of seeing the beauty of the environments I visited with my own eyes while I was there.
I eventually land on a few and post them. In my caption I say that I think this trip "may have been one of the most important things I've ever done" and I mean it. I've gone so far outside of my comfort zone in the last four days I honestly don't even know how I managed it. I flew alone, to a city far bigger than any I have an experience with. I got rides all over said city with strangers who I got to know over the course of my rides, even though normally I'm not one for small talk. I stayed in stranger's homes overnight instead of hotels. I, who on the best of days don't exactly love driving, rented a car and drove in Phoenix. Then I continued all the way to Flagstaff, and all the way back to Phoenix again. I got surgery in a guy's basement. I hiked miles into the Grand Canyon, alone for a lot of it, and planning to be alone for all of it, although I wouldn't trade my time with Paul and Brent for anything. Same with the cave. I drove to the middle of a national forest, far from anyone or anything, and hiked into a cave alone, and only joined with my companions after I was ready to leave.
This trip has been full of new experiences and leaving my comfort zone. I am sure I'll take other trips both alone and with others in the future, but I don't think any can ever be quite like this one, and I'm alright with that. It has been an unforgettable and irreplaceable few days of my life.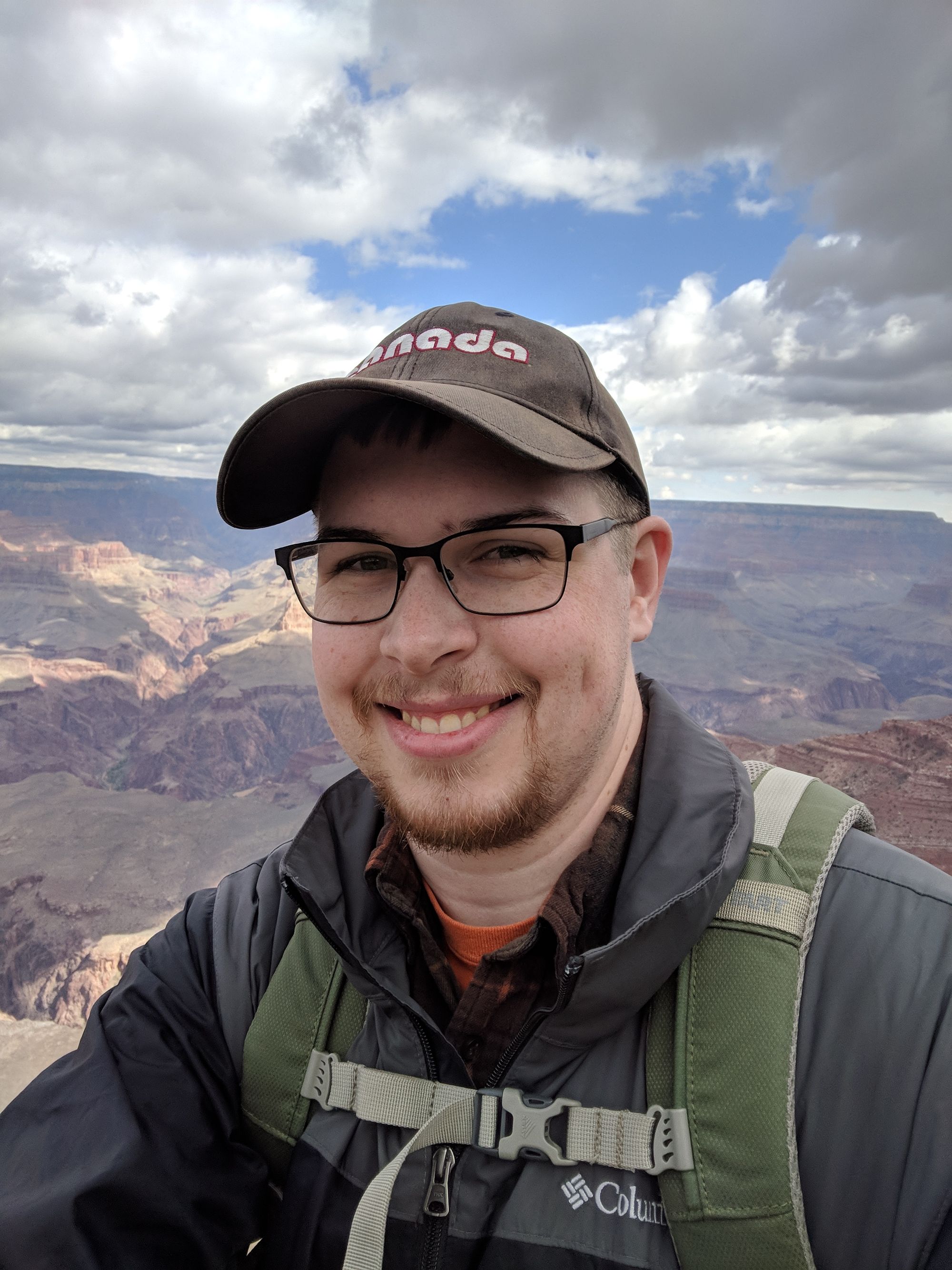 Afterword
This is the end of my solo trip to Arizona saga. This was a very special time for me. I originally wrote all these things down a few months after returning home, when I realized I was starting to forget the finer details of the trip. I originally wrote it just for me, or perhaps to be shared with a few friends. But I am glad now that I decided to go through and edit these to be shared here.
I'm not sure when, or what my next post will be. I have a few drafts in the works currently. The main one(s) are a two part series where I go into more detail discussing my implants (yes, I have more than just the magnet now!). I hope to finish these eventually, but this is a very personal topic for me, so it is taking me a while to get it right. In the meantime, there may be some other one-off posts, but you'll just have to stick around so we can find out together!